4 Reasons Your Team Will Love Playing at Rocky Top Sports World
Our state-of-the-art indoor and outdoor sports campus is located in Gatlinburg TN and is surrounded by the beautiful Smoky Mountains. There are benefits of our facility for all those involved, including the event planners, coaches, spectators, and especially the players. Here are 4 reasons your team will love playing at Rocky Top Sports World:
1. Intense Competition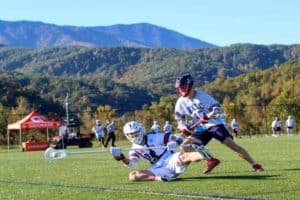 With our seven outdoor fields and a 86,000 square foot indoor facility, we can host just about any sports event you can think of. We have held matches and tournaments for a large variety of sports, from soccer and basketball all the way down to table tennis and ultimate frisbee. Regardless of the activity on the field or court, you can guarantee it is going to be an intense competition. If your players want to test out their skills in whatever sport they are playing, Rocky Top Sports World is the place to compete!
2. Beautiful Scenery
As if our beautiful playing surfaces weren't enough to please the eyes, when you play at our sports campus, you will be surrounded by the breathtaking Smoky Mountains! The backdrop of the mountains creates a sports destination rivaled by no other. As players, there is nothing cooler than playing at unique sporting venues. If your team is not from the area, they will be starstruck when they get to play in the mountains. Be sure to bring a camera along because this amazing backdrop is ideal for team pictures!
3. Close to Amazing Attractions
When your team plays in Gatlinburg, they will be just minutes away from all the action in the area. What better way to celebrate a big team win than by treating your players to a trip to Ripley's Aquarium of the Smokies, one of the country's most highly rated aquariums. After a busy day at Rocky Top Sports World, your players are bound to work up an appetite! Take the team out for a nice dinner at one of Gatlinburg's premier restaurants, such as Cherokee Grill or The Park Grill. Many of the local attractions also offer group discounts, which can help coaches and parents keep a little money in their pocket!
4. Play in Any Weather Condition
One of the best features about our Gatlinburg sports complex is that we have both natural playing surfaces and astroturf fields. On nice weather days, the freshly cut grass on the natural fields make for a great playing experience for athletes. In the ideal world, we would never have to worry about rain moving into the area during your match or tournament. However, we know that is not always going to be the case. Luckily, we also have a large selection of artificial turf fields that are made with synthetic fibers. As a result, we are able to play through a little bit of rain, as long as there is no lightning in the area. A little water doesn't seem to bother the athletes, in fact, they secretly enjoy it!
Now that you know why your team will love playing at Rocky Top Sports World, you are ready to make the trip to the Smoky Mountains to compete! Check our upcoming event calendar to see what events we have coming up in the near future. We hope to see you soon!