Top 5 Reasons to Get Your Child Involved with Youth Basketball
If you have been looking for a physical activity to encourage a healthy lifestyle for your child, youth basketball is an excellent option! Playing basketball helps children learn basic coordination and team building skills while maintaining their health. After all, kids need physical activity on a daily basis, which can often be difficult with the lure of video games and other distractions! Here are the top 5 reasons to get your child involved with youth basketball:
1. Encourages a Healthy Lifestyle
One of the top reasons to get your child involved with youth basketball is for physical fitness. Since young children require a minimum of 1 hour of moderate physical activity daily, basketball is the perfect sport because it can easily be played in the gym or practiced at home. In addition, kids have to use all of their muscles to run and shoot the ball! Soon your child will want to incorporate physical activity into their daily routine, which contributes to their overall physical fitness and well-being.
2. Develops Motor Skills
Basketball is a wonderful sport for children to learn because it involves a variety of motor skills, including catching, throwing, dribbling, and pivoting. When you start your child playing basketball at a young age, they will develop and improve their gross motor skills which transfer to many other activities of daily life. Your child will also benefit from improving fine motor skills such as hand-eye coordination!
3. Teaches the Importance of Teamwork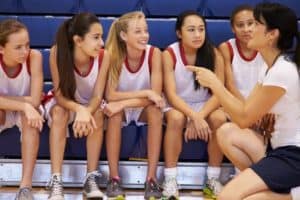 Another major reason to get your child involved with youth basketball is because it teaches the importance of teamwork. Playing on a team not only provides a fantastic opportunity to meet some new friends, but it improves your child's ability to communicate with others and solve basic problems! These are important life lessons to learn as it transfers to many other areas of life including school, peer and family relationships, and eventually jobs with co-workers.
4. Builds Self Esteem
When your child realizes they are getting better at playing basketball, they will feel a tremendous sense of accomplishment! This helps to build self esteem and increase confidence about getting even better at playing the sport! When you add positive reinforcement to let your child know how well they are doing, they create an even more positive view of themselves!
5. Teaches a Life Lesson on Dealing with Mistakes
Youth basketball is an opportunity for your child to learn how to deal with mistakes and how to learn from them going forward. After all, it is a simple fact everyone makes mistakes, and there is no doubt you have seen your favorite professional athlete make bad plays! When your child learns mistakes do happen, they can learn how to handle them appropriately.
Now since you know the top reasons to get your child involved with youth basketball, learn all about the camps, tournaments, and other events taking place at our indoor and outdoor sports campus in Gatlinburg TN!