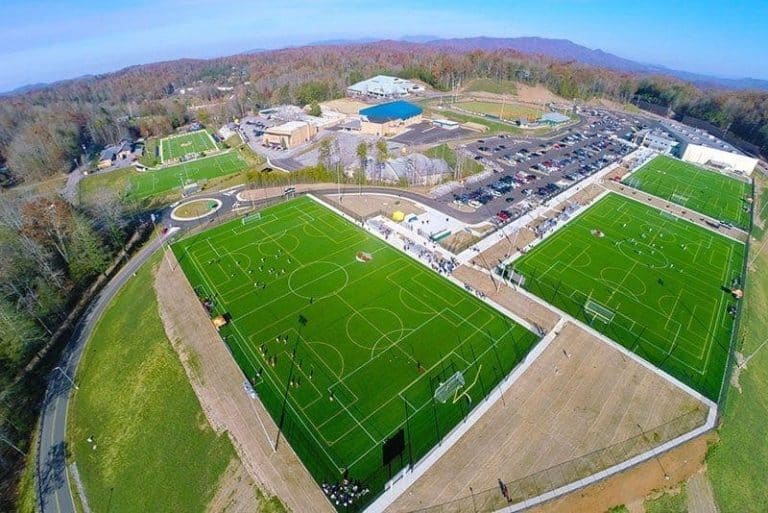 5 Amenities That Make Rocky Top Sports World the Ultimate Tournament Destination
Attracting over 42,000 athletes each year, Rocky Top Sports World is one of the most popular tournament destinations in the United States! Since opening its doors in 2014, our 80-acre athletic complex has established itself as an industry leader with its superior amenities and friendly staff members. In 2017, the readers of SportsEvents Magazine voted Rocky Top Sports World one of the nation's Top 10 Multi-Use Sports Facilities. To help you plan your next tournament, we have put together a handy guide to five features that set Rocky Top Sports World apart from the rest.
1. Unparalleled Location in Gatlinburg
Rocky Top Sports World boasts an incredible location in Gatlinburg, TN, one of the Southeast's very best family vacation spots. Our sports campus is just a 10-minute drive from The Strip, the bustling downtown area overflowing with awesome attractions, phenomenal restaurants, and unique shops. Rocky Top Sports World is also just a short drive away from all of the fun in Pigeon Forge, TN and the Great Smoky Mountains National Park, which is the most visited national park in America.
When you're in town for a tournament at Rocky Top Sports World, you can take advantage of everything the Smoky Mountain area has to offer. Follow the link for a complete guide to making the most of your tourna-cation in Gatlinburg.
2. State-of-the-Art Indoor Facility
Known as "The Rock", our 86,000 square foot indoor facility can accommodate a wide variety of sports, such as basketball, volleyball, martial arts, wrestling, and futsal. Perfect for large tournaments, The Rock features six basketball courts and 12 volleyball courts (with an additional four basketball courts and five volleyball courts available on our campus). Athletes will enjoy our complex's state-of-the-art amenities, including hydraulic goals and volleyball nets, message boards throughout the facility, and three team rooms. Offering ample bleacher seating, The Rock is also a wonderful place for spectators to cheer on their favorite team.
3. Beautiful Outdoor Fields with Mountain Views
In addition to The Rock, our campus also features a gorgeous outdoor playing area with views of Gatlinburg's famous mountain scenery. With six astroturf fields and one natural surface field, Rocky Top Sports World is a great place to play soccer, football, lacrosse, Ultimate frisbee, or virtually any other turf-based sport. Rocky Top's press box and bleacher seating for 1,500 spectators make every tournament feel like a major sporting event.
4. On-site Dining and Team Meal Plans
Athletes and spectators definitely won't have to worry about going hungry when they visit Rocky Top Sports World! Our athletic complex is home to Champs Grill and Courtside Cafe, two excellent eateries that serve all of your favorite stadium-style foods, such as hamburgers, hot dogs, chicken tenders, french fries, tater tots, and homemade chips. Rocky Top Sports World also offers a variety of convenient catering options for sports teams, including healthy boxed meals and buffets for breakfast, lunch, and dinner. Visit our On-site Dining page for our complete catering menu.
5. Partnership with PSE Event Housing
Rocky Top Sports World partners with PSE Event Housing to help athletes find the best group lodging rates in Gatlinburg. Boasting a great selection of hotels, cabin rentals, and condos, PSE is guaranteed to find the perfect home away from home for your tournament in the Smokies. For more information, check out our Lodging page.
Ready to start planning your tournament at Rocky Top Sports World? Fill out our Contact form and one of our friendly staff members will be in touch!