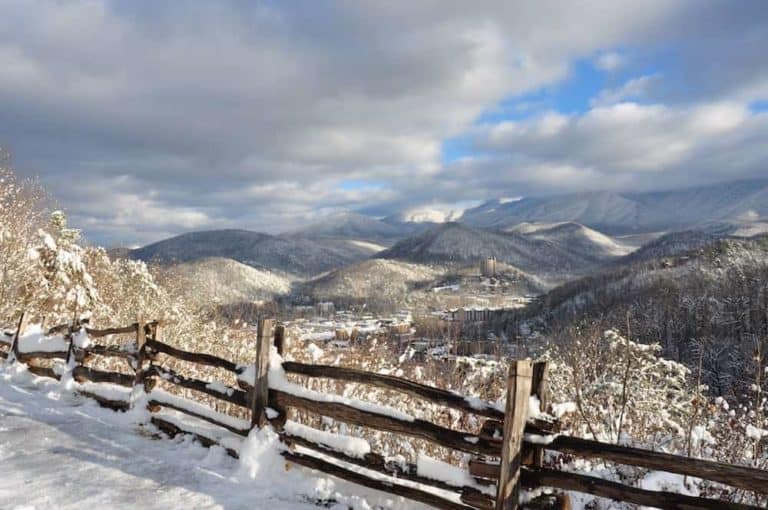 Winter Fun at Rocky Top Sports World and Gatlinburg, TN
Winter is one of the very best times to visit Gatlinburg, TN! During the holiday season and the first few months of the new year, our Smoky Mountain city is transformed into a winter wonderland, complete with dazzling Christmas lights and (if we're lucky) snowcapped peaks. Rocky Top Sports World is hosting some great tournaments this winter, so you can enjoy everything Gatlinburg has to offer while you're in town for an athletic event. Read on for a quick look at all of the winter fun happening in the Smokies this year.
Winter Lights and Festivities
Every year, Gatlinburg celebrates the holiday season with its beautiful Winter Magic decorations. These 3 million Christmas lights are located around the city and depict traditional holiday scenes, along with some of the Smoky Mountain area's signature wildlife. The city even offers $5 trolley rides that will take you right to these stunning light displays. The Winter Magic Lights remain on from November 9 through January 31.
If you're looking for even more Christmas cheer while you're in town, you will love Gatlinburg's Winter Magic Tunes and Tales! This free concert series in downtown Gatlinburg features stirring renditions of all your favorite holiday tunes with a bluegrass and country twist. These talented musicians will perform from 5 – 9:30 p.m. on the following dates:
November 25 – 26
December 2 – 3
December 9 – 10
December 16 – 17
(See Also: The Best Gatlinburg Attractions and Restaurants for Athletes at Rocky Top Sports World)
Winter Events at Rocky Top Sports World
There is no shortage of fun events taking place at Rocky Top Sports World this winter! Here is everything going on at Rocky Top in December, January, and February:
Gatlinburg Season Finale (December 3 – 4): This two day soccer tournament is open to select teams and will feature multiple divisions for boys and girls between the ages of 9 and 19.
Elks Hoop Shoot (December 4): This fun basketball event is presented by the Gatlinburg Elks Lodge.
Spike-O-Rama Volleyball Play Day (December 10): This round-robin style play day is for volleyball teams made up of girls between the ages of 12 and 18.
Tennessee AAU Wrestling Top 100 & Beginner Tournament (December 17): This Team Tennessee Wrestling tournament is open to boys in grades K – 8.
Middle and Elementary School Smoky Mountain Duals (December 18): This all day wrestling tournament is open to middle and elementary school age boys.
19th Annual Smoky Mountain Classic (December 21 – 23): This excellent basketball tournament is for high school teams and offers a three game guarantee.
Smoky Mountain Duals (December 22 – 23): This wrestling tournament is for high schoolers and features a 7 – 9 match guarantee.
Smoky Mountain Soccer Academy – Elite Winter Camp (December 27 – 29): This superb soccer camp offers expert instruction for athletes between the ages of 3 and 14.
Smoky Mountain Soccer Academy – Elite Team Winter Camp (December 27 – 29): This soccer camp is open to all club and high school boys and girls teams. Athletes will receive instruction from the Associate Head Coach of Tusculum College's soccer team and other coaches who have worked and played at the college level.
Gatlinburg Futsal Championships (January 14 – 15): This great indoor soccer tournament is the perfect way to keep your skills sharp during the off season.
Smoky Mountain Challenge (January 21 – 22): This popular volleyball tournament is open to girls between the ages of 12 and 18, with separate divisions for each age group.
Gatlinburg Hoops Rumble (January 28 – 29): This great basketball tournament is for girls ages 8 – 13 and boys ages 9 – 14.
Southeast College Boys Showcase (January 28 – 29): This special soccer showcase will be attended by scouts from over 60 colleges in the Southeast. The event is for boys between the ages of 14 and 19.
Southeast College Girls Showcase (February 4 – 5): This soccer showcase is for girls between the ages of 14 and 19 and will be attended by college scouts from over 60 schools.
Junior Winter Slam (February 11 – 12): This basketball tournament is open to school and travel teams for boys and girls in 2nd through 8th grade.
Queen of the Mountain (February 25 – 26): This wonderful volleyball tournament for girls ages 13 – 18 will feature over 100 teams.
Mayhem in the Mountains (February 25 – 26): This lacrosse event consists of preseason jamboree style scrimmage games. Mayhem in the Mountains is open to boys varsity and junior varsity lacrosse teams.
For more details and registration information for all of the tournaments, play days, and camps listed above, visit the Rocky Top Sports World Events page!